LISA-MARIE PARSONS
It's been a challenging year for many, with the affects of COVID-19 taking hold. For Lisa, aged 29, this turbulent time has also been entwined with the fear of having recently been diagnosed with MS. Lisa stated experiencing symptoms in April earlier this year.
"I woke up one morning to pressure pain and loss of vision in my right eye. I didn't fuss over it as I thought it was something that would fix itself. I left it for a week, and during that time my symptoms became even more severe, so I went to my optometrist. As my eye looked healthy and he was unable to find any problem, he then referred me to the PA hospital eye clinic for further testing."
Lisa underwent testing and was admitted to the hospital in the Neurology ward. Here she received a steroid treatment, to help reduce inflammation and recover her eyesight. She then had an MRI, multiple blood tests and a lumber puncture test.
"After these tests, the doctors then informed me they needed to test for MS. With all these tests, it took a few weeks before they could officially diagnose the disease. It was a waiting game before finding out..."
It took 6 weeks for Lisa's eyesight to return, which was a real relief. During these 6 weeks, it was not easy for her to get on with everyday life. Lisa was unable to drive, which meant she was unable to take her kids to school or go to work. As she was having to adjust to life with having sight in just one eye, she also found the simplest of tasks such as walking around, watching tv, or using her phone a real struggle.
"It honestly hit me hard mentally and I felt rather depressed. I couldn't control the situation and it really stopped me in my tracks.
I am so hands on and like routine. Not knowing when my eyesight would return was a real mental battle. It really forced me to stop and think about myself, and to take time to look after myself. If this life hurdle hadn't happen to me, I suppose I wouldn't have had a shift in my life perspective for the better.
When I was diagnosed with MS, I was in shock. My shock lead to denial - not because I was actually concerned about having the disease, but because I didn't have time to worry about myself. I am a wife, employee and mother to 5 children.
I knew I didn't have time to focus on me, and my own health. I was more concerned about the unknown of when and if my vision would return, and what life would look like if I permanently had vision loss in my right eye.
I knew of MS, but wasn't well educated on it as I didn't have a reason, until now. I guess the biggest thing was deciding how to manage the disease knowing you have it. I have chosen to treat this medically, but I am still learning, as I am only early into my diagnosis.
I guess my story has only just begun."
This will be Lisa-Marie's first year taking part in the MS Moonlight Walk, and she is looking forward to joining the sea of lanterns on Friday 26 March.
Lisa-Marie will be gathering her tribe of friends and family to join her, but most importantly she is eager to support the cause and spread awareness for all the other Queenslanders like her, who are living with MS.
JENNY BENNETT
Being told you have an incurable disease at the age of 15 would not only be confusing, but also terrifying. Diagnosed in 1973, Jenny was in Year 10 when her symptoms could no longer be ignored. The regular muscle spasms, lack of balance and numbness made it hard to live the active life of a regular teenager, so her mother insisted she see her GP.
Jenny was immediately referred to a Neurologist but before she was able to see the specialist, experienced a severe episode which left her entire body completely paralysed and she went blind in both eyes; she was horrified. Jenny spent the next three months in hospital, going through numerous tests to determine the cause of her symptoms; you see, back in the 70's – there was no such thing as an MRI.
Instead, Jenny endured three lumbar punctures before being diagnosed with MS. At the young age of 15, she was confused, scared and could not fathom what effect that would have on the rest of her life.
Then when Jenny was 19 years old, she met Charlie and they've been together ever since!
"Charlie married me knowing I had this disease and the challenges it would bring. He carries me when I can't walk, he keeps me company whilst in hospital and stands by me in everything I do".
Jenny, living with MS for 45 years with husband Charlie
Jenny has mobility issues, needing to use a walker whilst in the house and a motorised scooter outdoors; ever playful, she mentioned she often 'leaves Charlie for dead!' when putting the pedal to the metal on the scooter.
Watch this video and listen to Charlie and Jenny as they explain what life with MS is like for them.
MEET WENDY LOVELACE
It is my favourite event of the year.
What could be better than an evening walk along the river's edge shared with friends, known and as yet unmet?
The joy of a shared event gives me goose bumps and we often see people where the MS Moonlight Walk is their first public appearance acknowledging and sharing their MS journey with family, friends and colleagues.
It's an extraordinary and inclusive event.
I first learned of the event from a good friend supporting in my recovery journey from injuries sustained in a serious car accident, the 10km Moonlight Walk became a benchmark challenge to be achieved.
Through subsequent years, rain and shine the annual MS Moonlight Walk has been a beacon in my MS journey.
Over successive years innovations have come and gone, and the event has grown in number and location.
After sharing a vision of lanterns bobbing along the river's edge the iconic illuminated lanterns have become an integral part of the Moonlight Walk, bringing awareness of the story of MS to the community.
It is a wonderful evening event that is shared by all comers regardless of fitness. Costumes and camaraderie and we often observe those who the Moonlight Walk is their first public encounter with the cross-section of people living with MS.
My friend Barb has been walking and fundraising with me for the past decade, likewise great friends Michael and Sandy, with Barb's and my competitiveness and camaraderie becoming legendary amongst our friends and MS Queensland staff.
MEET GAIL
Gail was 41, managing a business and raising her two young children, when she was diagnosed with secondary progressive MS in 1996.
At the time of Gail's diagnosis, she didn't know anyone else living with this disease. Her MS progressed quickly, to the point where she required a wheelchair permanently by 2001.
"Not one of us knows. We could go to bed one day and wake up the next and have lost our vision, lost our mobility, or have an incurable disease."
Gail's symptoms, such as fatigue, can be so debilitating some days that she simply can't get out of bed. And on the mornings that she pushes past that intense feeling in her limbs, as well as the mental struggle, she's usually exhausted by the afternoon.
"The hardest thing of all is losing your independence. After my diagnosis, my daughter at the age of 12 had to be a mother and sister to my son. My son at the age of 10 had to cook dinner because I couldn't get out of bed."
Last year when we shared Gail's story with our walkers, Gail was living with her son and his family on the Gold Coast. Gail told us, "I would love to be independent, be able to maintain my home, work full time and dance again."
We are excited to share with you that Gail now lives independently again and loves babysitting her grandchildren. She is so grateful to have Coda, who has enabled her to do the things she loves. Coda can help open doors, take Gail's shoes off and put laundry in the washing machine (he even separates whites from colours!).
Thanks to fabulous support from previous Moonlight Walk participants, MS Queensland has been there to support Gail in times of need. She shudders to think where she would be without us.
"MS Queensland have been amazing help and support for me both mentally and physically. They've provided me with amazing physiotherapy support, and having access to a Service Coordinator has been a lifeline! I've met some lovely people and made lifelong friends."
The MS Moonlight Walk exists solely to raise as much money as possible to support people like Gail. There are many other people like Gail who rely on MS Queensland to be there at their darkest times, and to give them the strength they need to fight MS.
That is why the MS Moonlight Walk is so important. Not only to raise the vital funds needed to ensure no-one faces MS alone, but to rally the MS community and show others going through the same experience, they are not alone either.
MEET HOLLY
Holly was diagnosed with MS in October 2019, when she was just 21 years old.
However, she had started experiencing symptoms as early as two years prior, in 2017 just a week before her 20th birthday. She started experiencing mild eye pain the night before, but figured it was just a headache and didn't think much of it.
When she woke the following morning, 90% of her vision was complete gone in her right eye.
In the first conversations about the possibility of an MS diagnosis, Holly described the feelings of complete fear.
"I was frightened, extremely scared and overall confused as to why this was happening to me all before my 20th birthday."
However, Holly says that when her neurologist said: 'you tick the boxes for a MS diagnosis' years later – it was actually a relief.
"It was a relief because there was finally a conclusive reason and answer to why I was feeling the way I was, and why my body was behaving the way it was.
I would be lying if I didn't say I wasn't still upset and frightened about the unknown with my diagnosis. It was the first thing I thought about when I opened my eyes and the last thing I thought about when I closed my eyes."
However, Holly explains that once she describes herself having hit rock bottom, she knew the only way was up, and that now with her diagnosis confirmed, she would have the opportunity to get the treatment needed to continue enjoying her life.
"My biggest fear is the unknown - the unknown of what I will be like in 10, 20 30+ years' time, what will my symptoms be like then – will I have new ones – how fast with the disease progress?
I try not to let these thoughts cloud my head as it's something I cannot control. What I can control is how I choose to spend the years ahead."
In addition to the vision-based issues and occasional muscle weakness Holly experiences, she also deals with pins and needles in her left leg, that has become a part of her daily life, and something she's learnt to live with.
"MS Queensland really helped me in the beginning of my MS journey when I was seeking out information and resources that I knew were reliable. I found the resources online amazing and really helped me understand the disease in terms that I could easily digest, rather than scientific and hard to read reports and studies online.
MS Queensland also helped me realise that there are so many other people out there affected by this disease and that there are many communities and groups that specifically created for people with MS. It made me feel less alone knowing that MS Queensland was a central hub where I could connect with others as well as access a variety of resources."
Holly took part in the MS Moonlight Walk for the very first time last year, walking the 10km course.
"It wasn't until I got my diagnosis that I started to focus on my health and fitness. I started my fitness journey in October 2019 and that's when I discovered the MS Moonlight Walk and decided this was something, I would push myself to do."
This year, Holly has a $1,000 fundraising goal, which she has already surpassed! She is now aiming for $2,000, and is well on her way to smashing!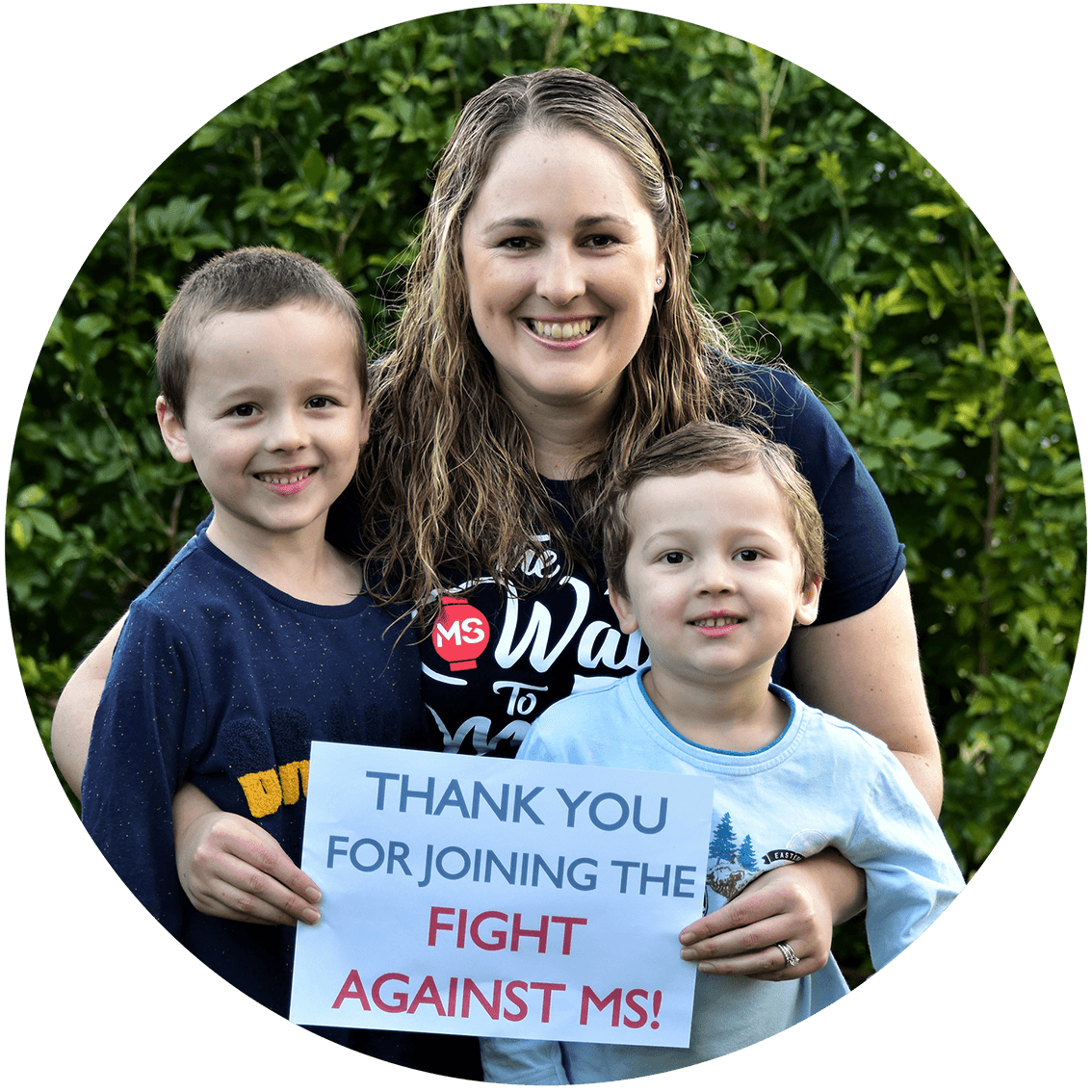 MEET LAURA
Imagine waking up one morning and your body from your stomach down to your toes is numb. That is what happened to Laura one morning in November 2017, when she was just 29 years old. It was a day that started unlike any she had experienced before.
Laura was admitted to hospital where doctors ran many tests, including a lumbar puncture and an MRI.
It was this MRI that showed more lesions had developed on her brain, and unfortunately some had also developed on her spinal cord.
There are many different treatment options for MS, and it can be a lengthy and difficult process to determine which is the best option. As Laura's symptoms were quite active, oral and injectable medications would not be effective. This led Laura to one last treatment option called Lemtrada. Lemtrada has many long-term side effects, however as a mother of two, and carer for her husband who has Parkinson's disease, Laura decided this was the best treatment option for her.
Not only is Laura a mother of two young children aged 3 and 5, she is also a primary school teacher.
Because of her MS, Laura has had to make some significant changes in her work - "I am no longer able to teach physical education outside in the sun as the hot temperatures trigger numbness and tingling in my feet and legs. I am now only able to teach in the classroom and do playground duty undercover."

To help her manage her symptoms, Laura has worked with an MS Queensland Service Coordinator and is now set up with an NDIS plan to give her access to a variety of different health services.