Jess is living with MS, and was first diagnosed at the young age of 25 in 2013, the day before her birthday.
In hindsight, Jess says she had been experiencing symptoms at the early age of 15 years in 2001.
Her symptoms were extensive, and included double vision, numbness from the waist up, loss of feeling in her left arm, tingling in her fingers, fatigue including cognition changes, muscle spasms and weakness, and altered sensitivity.
When Jess was first diagnosed, she recalls feeling a sense of relief as it provided answers to the many years of unexplained symptoms. However, that was quickly replaced with feelings of confusion, loneliness, isolation, grief and fear of the unknown.
Due to the changes to her physical ability and fatigue, Jess needed to reduce her hours at work to part-time and eventually led to her having to give up employment all together.
"My MS has impacted my daily mobility and changed my sense of 'normal'. It has changed my path to include a new normal."
Shortly after Jess' diagnosis, her best friend entered a team to take part in the MS Moonlight Walk.
"I choose to be involved in the MS Moonlight Walk united with my family and friends as part of the 'Walk for Jess' Team. As a team our goal has always been to raise money, raise awareness, and give people living with MS an opportunity to ask questions, get information, create contacts and share their stories."
The team is made up by an extraordinary bunch of people from all walks of life who are bonded together by a beautiful young strong and determined lady - Jess.
"MS Queensland has been an amazing support and has offered many resources from physiotherapy, newly diagnosed webinar's, information sessions, and education tools that helped me explain my MS to my young nieces."
"The MS Queensland staff are always friendly and welcoming when I am feeling most vulnerable. I can always count on them to make me smile. My family and friends on team walk for Jess have always felt supported, included and part of the extended MS Queensland team."
Jess will be gathering her team of friends and family to join her, but most importantly she is eager to support the cause and spread awareness for all the other Queenslanders like her, who are living with MS.
"It is a pleasure to raise money for MS Queensland, so these services can continue to be funded and provide support to people living with MS."
This year will mark Jess's 4th year doing the MS Moonlight Walk and the 5th year for the Walk for Jess team. She is so looking forward to joining you all (no matter where you are across the state!) as together we raise our lanterns on Saturday 28 October, 2023.
Being told you have an incurable disease at the age of 15 would not only be confusing, but also terrifying. Diagnosed in 1973, Jenny was in Year 10 when her symptoms could no longer be ignored. The regular muscle spasms, lack of balance and numbness made it hard to live the active life of a regular teenager, so her mother insisted she see her GP.
Jenny was immediately referred to a Neurologist but before she was able to see the specialist, experienced a severe episode which left her entire body completely paralysed and she went blind in both eyes; she was horrified. Jenny spent the next three months in hospital, going through numerous tests to determine the cause of her symptoms; you see, back in the 70's – there was no such thing as an MRI.
Instead, Jenny endured three lumbar punctures before being diagnosed with MS. At the young age of 15, she was confused, scared and could not fathom what effect that would have on the rest of her life.
Then when Jenny was 19 years old, she met Charlie and they've been together ever since!
"Charlie married me knowing I had this disease and the challenges it would bring. He carries me when I can't walk, he keeps me company whilst in hospital and stands by me in everything I do".
Jenny, living with MS for 45 years with husband Charlie
Jenny has mobility issues, needing to use a walker whilst in the house and a motorised scooter outdoors; ever playful, she mentioned she often 'leaves Charlie for dead!' when putting the pedal to the metal on the scooter.
Watch this video and listen to Charlie and Jenny as they explain what life with MS is like for them.
Holly was diagnosed with MS in October 2019, when she was just 21 years old.
However, she had started experiencing symptoms as early as two years prior, in 2017 just a week before her 20th birthday. She started experiencing mild eye pain the night before, but figured it was just a headache and didn't think much of it.
When she woke the following morning, 90% of her vision was complete gone in her right eye.
In the first conversations about the possibility of an MS diagnosis, Holly described the feelings of complete fear.
"I was frightened, extremely scared and overall confused as to why this was happening to me all before my 20th birthday."
However, Holly says that when her neurologist said: 'you tick the boxes for a MS diagnosis' years later – it was actually a relief.
"It was a relief because there was finally a conclusive reason and answer to why I was feeling the way I was, and why my body was behaving the way it was.
I would be lying if I didn't say I wasn't still upset and frightened about the unknown with my diagnosis. It was the first thing I thought about when I opened my eyes and the last thing I thought about when I closed my eyes."
However, Holly explains that once she describes herself having hit rock bottom, she knew the only way was up, and that now with her diagnosis confirmed, she would have the opportunity to get the treatment needed to continue enjoying her life.
"My biggest fear is the unknown - the unknown of what I will be like in 10, 20 30+ years' time, what will my symptoms be like then – will I have new ones – how fast with the disease progress?
I try not to let these thoughts cloud my head as it's something I cannot control. What I can control is how I choose to spend the years ahead."
In addition to the vision-based issues and occasional muscle weakness Holly experiences, she also deals with pins and needles in her left leg, that has become a part of her daily life, and something she's learnt to live with.
"MS Queensland really helped me in the beginning of my MS journey when I was seeking out information and resources that I knew were reliable. I found the resources online amazing and really helped me understand the disease in terms that I could easily digest, rather than scientific and hard to read reports and studies online.
MS Queensland also helped me realise that there are so many other people out there affected by this disease and that there are many communities and groups that specifically created for people with MS. It made me feel less alone knowing that MS Queensland was a central hub where I could connect with others as well as access a variety of resources."
Holly took part in the MS Moonlight Walk for the very first time in 2019, walking the 10km course.
"It wasn't until I got my diagnosis that I started to focus on my health and fitness. I started my fitness journey in October 2019 and that's when I discovered the MS Moonlight Walk and decided this was something, I would push myself to do."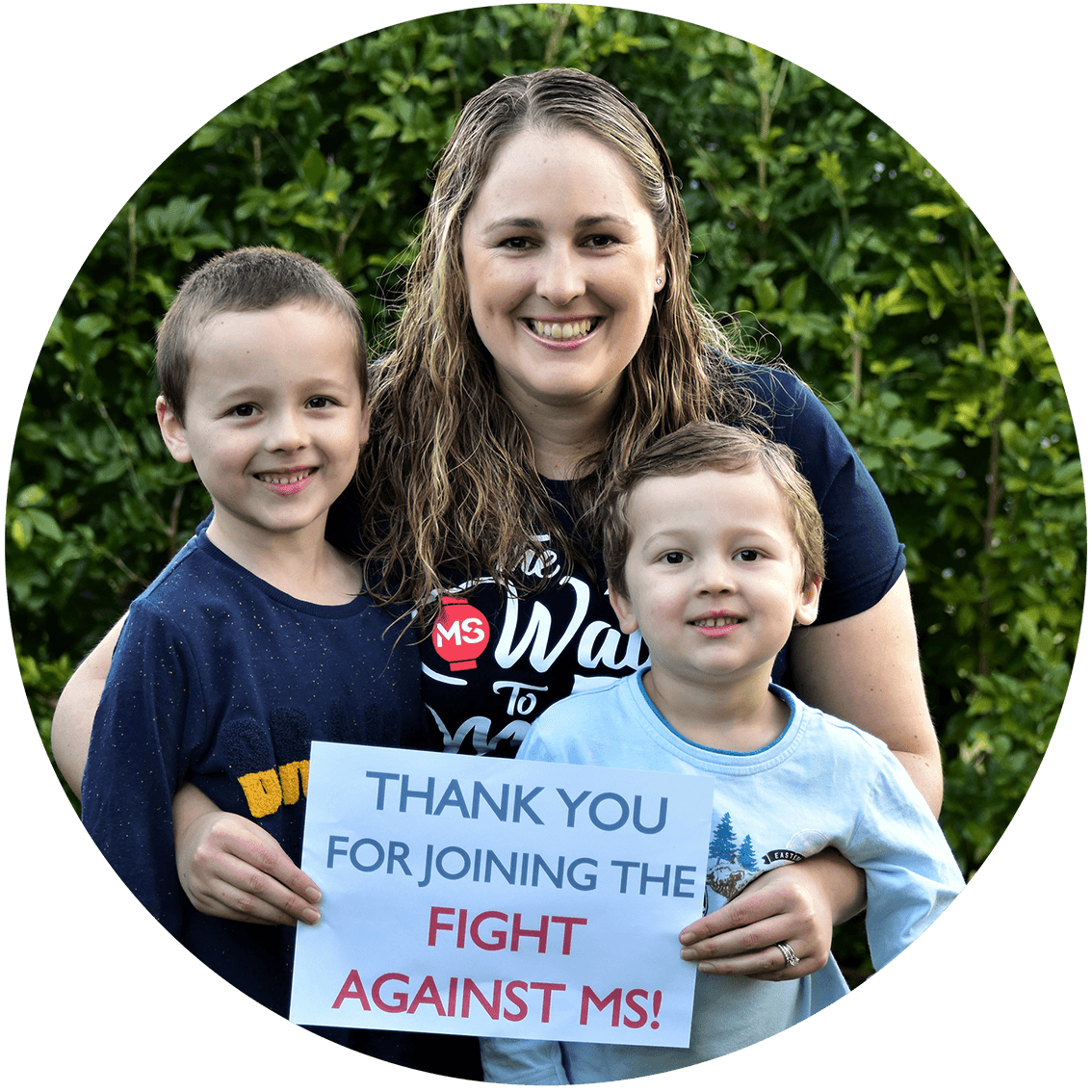 Imagine waking up one morning and your body from your stomach down to your toes is numb. That is what happened to Laura one morning in November 2017, when she was just 29 years old. It was a day that started unlike any she had experienced before.
Laura was admitted to hospital where doctors ran many tests, including a lumbar puncture and an MRI.
It was this MRI that showed more lesions had developed on her brain, and unfortunately some had also developed on her spinal cord.
There are many different treatment options for MS, and it can be a lengthy and difficult process to determine which is the best option. As Laura's symptoms were quite active, oral and injectable medications would not be effective. This led Laura to one last treatment option called Lemtrada. Lemtrada has many long-term side effects, however as a mother of two, and carer for her husband who has Parkinson's disease, Laura decided this was the best treatment option for her.
Not only is Laura a mother of two young children aged 3 and 5, she is also a primary school teacher.
Because of her MS, Laura has had to make some significant changes in her work - "I am no longer able to teach physical education outside in the sun as the hot temperatures trigger numbness and tingling in my feet and legs. I am now only able to teach in the classroom and do playground duty undercover."

To help her manage her symptoms, Laura has worked with an MS Queensland Service Coordinator and is now set up with an NDIS plan to give her access to a variety of different health services.
It's been a challenging year for many, with the affects of COVID-19 taking hold. For Lisa, aged 29, this turbulent time has also been entwined with the fear of having recently been diagnosed with MS. Lisa stated experiencing symptoms in April earlier this year.
"I woke up one morning to pressure pain and loss of vision in my right eye. I didn't fuss over it as I thought it was something that would fix itself. I left it for a week, and during that time my symptoms became even more severe, so I went to my optometrist. As my eye looked healthy and he was unable to find any problem, he then referred me to the PA hospital eye clinic for further testing."
Lisa underwent testing and was admitted to the hospital in the Neurology ward. Here she received a steroid treatment, to help reduce inflammation and recover her eyesight. She then had an MRI, multiple blood tests and a lumber puncture test.
"After these tests, the doctors then informed me they needed to test for MS. With all these tests, it took a few weeks before they could officially diagnose the disease. It was a waiting game before finding out..."
It took 6 weeks for Lisa's eyesight to return, which was a real relief. During these 6 weeks, it was not easy for her to get on with everyday life. Lisa was unable to drive, which meant she was unable to take her kids to school or go to work. As she was having to adjust to life with having sight in just one eye, she also found the simplest of tasks such as walking around, watching tv, or using her phone a real struggle.
"It honestly hit me hard mentally and I felt rather depressed. I couldn't control the situation and it really stopped me in my tracks.
I am so hands on and like routine. Not knowing when my eyesight would return was a real mental battle. It really forced me to stop and think about myself, and to take time to look after myself. If this life hurdle hadn't happen to me, I suppose I wouldn't have had a shift in my life perspective for the better.
When I was diagnosed with MS, I was in shock. My shock lead to denial - not because I was actually concerned about having the disease, but because I didn't have time to worry about myself. I am a wife, employee and mother to 5 children.
I knew I didn't have time to focus on me, and my own health. I was more concerned about the unknown of when and if my vision would return, and what life would look like if I permanently had vision loss in my right eye.
I knew of MS, but wasn't well educated on it as I didn't have a reason, until now. I guess the biggest thing was deciding how to manage the disease knowing you have it. I have chosen to treat this medically, but I am still learning, as I am only early into my diagnosis.
I guess my story has only just begun."
2021 was Lisa-Marie's first year taking part in the MS Moonlight Walk.
This is why Donna walks in Walligan…
Meet vibrant and the always positive… Donna! She lives in Walligan, a regional town just outside of Hervey Bay. Donna was diagnosed with MS in 2020, just before her 50th birthday.
When reflecting on her initial diagnosis, Donna said:
"My initial reaction was 'oh thank goodness, it's not just all in my head!'. You really do wonder with all of these crazy symptoms if your body is playing tricks on you...
I remember leaving the Neurologists office, sitting on a seat and feeling completely overwhelmed. When I got home, I rang MS Queensland - they have been a wonderful support."
In March 2021, Donna took part in her very first MS Moonlight Walk, by walking in her local neighbourhood with her nearest and dearest.
Donna's motivation for taking part in the MS Moonlight Walk in her neighbourhood, was to raise awareness for MS and support all Queenslanders living with MS, being so newly diagnosed herself.
It was due to COVID in 2020 that the MS Moonlight Walk, which has been held annually in Brisbane for the past 20 years, pivoted for the first time in the events history...
As a result, the virtual 'in your neighbourhood' walk was born. Participants could choose to either register as part of the Brisbane event taking place at Davies Park, or they could choose to take part in their very own local area!
All across the state, hundreds of dedicated walkers registered as part of the MS Moonlight Walk, and together on the same evening raised their lanterns in the belief that no one should face MS alone.
It was a great way to feel connected, during a time of isolation.
Donna gathered more than 20 of her closest friends and family together as part of the MS Moonlight Walk in March. They chose to walk The Esplanade in Hervey Bay. Donna says:
"The walk was great - it was such a nice way to socialise and raise money for such a wonderful cause. It also gave us a good excuse to sit and have pizza afterwards!"
Donna's team "Team Veitch" set themselves a goal to raise $2,500. They ended up absolutely smashing that goal and raising a whopping $4,512, making them one of the top fundraising teams in regional Queensland!
Donna is determined to not let MS stop her from doing things she loves and lives by the motto "where there's a will, there's a way" – what an inspiration! She says:
"We are all on this MS journey together, I hope no one ever thinks they are alone!"
I was diagnosed with MS in 2014 at the age of 45, which was at the time an accidental medical finding. I was not experiencing any symptoms and underwent a series of tests. I clearly remember my Neurologist telling us there was no easy way to have this conversation, and he went on to delivering the news of my MS diagnosis.
Being told I had MS was somewhat overwhelming - not just for me, but for my whole family. In a split-second life changed as we knew it.
We were now living with the knowledge that I had a spinal legion that could potentially paralyse me at any moment. It was a reality check.
Within a year I was experiencing weakness in my left side, some foot drop, and having falls. I went on to developed other symptoms including numbness in my hands and feet, an intolerance to the cold, fatigue, muscle spasms, chronic neuropathic and trigeminal pain.
With this diagnosis, I was determined to attack my bucket list, and got the green light from my Neurologist. I have travelled overseas with family and friends pre-Covid, and been to Europe, UK, USA, Scotland, Ireland, Hong Kong, New Zealand and the South Pacific – just incredible experiences.
I would probably have never done any of this without my MS motivating rocket of now or never. So, it has also had its benefits.
As I can no longer work as a Police Officer, I am volunteering at the Sunshine Coast Riding for the Disabled. The people are great, I love the horses and I just love riding – that is my very special place.
One thing MS Queensland always does is ensure that you don't feel alone and give you information or the resources you need to deal with whatever your MS is serving up to you which is invaluable.
I remember asking MS Queensland if there was anyone else on the Sunshine Coast who had MS, as I felt like I was the only one. I have since met some amazing people along this journey, and MS Queensland have always been a stable entity.
They put me in touch with an MS support group, which lead to some wonderful morning teas and a team of us who travelled to Brisbane to take part in the MS Moonlight Walk in 2014. We had a blast!
At the young age of 26 years old, I was diagnosed in MS.
In hindsight, there were signs of MS long before my diagnosis was confirmed. For 8 years I had severe fatigue, that was at times debilitating.
In 2014, I suddenly started experiencing cognitive issues and struggled with my balance, which progressed to complete numbness across the entire left side of my body over a period of for three weeks.
When it was confirmed that I had MS, I was fairly positive about it and felt a sense of relief that I knew why these symptoms were occurring.
The hardest part was having to stay in hospital for a few more days to receive treatment, when I was desperate to go home, and be with my family.
Fortunately, my neurologist was wonderful throughout my time in hospital – very caring, and willing to answer all my questions, in what was quite a scary time.
I was put in touch with MS Queensland, who have been an incredible help, right from the beginning.
Without MS Queensland, I honestly would be lost and confused. The information I have received has been invaluable.
After my initial diagnosis, I met with the MS Nurse, who assisted me in choosing the best treatment for me, which can be a difficult decision.
I have also used the webinars and other information sessions, to help me and my family better understand MS, and how MS Queensland can best support me.
It's so comforting to know the team at MS Queensland are right there, when we need you.
Years on from my diagnosis, and I am very fortunate that my MS has not changed my life too much. With the incredible treatments and support available now, I can live a great life. I am even starting my PhD this year, which is something I would have never imagined I would or could do.
While my MS can flair up, I take each day as it comes and don't punish myself if I don't achieve everything that I wanted to – there is always tomorrow.
At just 27 years old, Brooklyn was happily planning what she calls her "really grandiose, big, over-the-top" wedding. Brooklyn is a young, energetic go-getter, who was ecstatic about her next big step and embarking on the next chapter in her life.
You can understand how terrifying it must have been for Brooklyn, to all of a sudden be stopped in her tracks.
It was in May 2021, that Brooklyn's vision suddenly doubled. She went to her optometrist, who confirmed her eyes were perfectly healthy. After spending a nervous weekend worrying about what was wrong, Brooklyn took herself to the hospital. Next thing she knew, Brooklyn was in the neurology ward facing test after urgent test. She was there for five more days, terrified and confused.
"I was in a ward with people who had all sorts of neurological problems. People who'd had strokes. Most of the people in there weren't verbal. I had no idea why I was in the same ward as them."
After days of testing, the doctors were sure. Brooklyn had MS. Sadly, MS is a condition that so often overwhelmingly affects young women around Brooklyn's age.
"I didn't know anything about MS. I was just really overwhelmed. I really didn't know what to think."
By the time Brooklyn was ready to be discharged from hospital, she'd had the worst week of her life. She was overwhelmed, and still had no idea what MS meant for her and her future.
It was when MS Queensland's specialist nurse visited Brooklyn before she was discharged, that she received the comfort and care she needed.
I was diagnosed with MS in 2018 when I was 32 years old, however my symptoms started years earlier. Among many other varying symptoms, I had experienced a tingling sensation to various parts of my body lasting for months at a time, as well as vertigo, extreme fatigue, loss of memory and blurred vision.
Once my diagnosis was confirmed as relapsing remitting MS, I was somewhat relieved to be able to give the symptoms I had been experiencing for years a name and understand what was going on - for a while there I was starting to question my own sanity!
After my neurologist told me I had MS, I gave MS Queensland a call as my first point of contact.
The NeuroAssist team were able to outline my options and the many support networks provided by MS Queensland. My husband and I have found the webinars to be very informative and helpful. I've also utilised the MS Nurse and psychologist. This year I'm hoping to utilise an MS Physiotherapist.
Since my diagnosis, MS has taught me to better understand my limits - as difficult as it is to admit - but to also take each day as it comes. We are also very fortunate to have a strong support network of family and friends.
Raising money and awareness for MS is important to me, having joined this Community I felt it important to support a community that has supported me.
So, after my diagnosis, my husband Andy was very keen to participate in the MS Brissie to the Bay bike ride and I was very impressed with the response we had from our family and friends to get involved. He will be riding again this year in the 100km ride.